Media monitoring is an increasingly important government service for any local, state or federal department. DataScouting, as a media monitoring software provider, is working with several government bodies around the world helping them cover their media intelligence needs and requirements.
Government monitoring of media
When it comes to government bodies, the common case is that they have their own in-house monitoring service that serves different departments. The service is used to:
improve emergency response;
cover defense initiatives / national security;
for law enforcement; and
disaster management.
Why is media monitoring so critical for government?
Media monitoring: For most government bodies, media monitoring is vital for their daily operation, mostly because it is more timely, easier to access, and easier to distribute among departments (compared to classified information).
Reactive: It is crucial for government bodies to access news events on time, especially breaking news, making media monitoring an indispensable tool.
Sheer volume of data: advanced technology is needed to optimize staff efforts.
Compliance: government bodies use media monitoring as part of compliance duties (for example complying with regulations on broadcasting such as the use of strong, offensive language and gestures on TV, indecent and profane content, time limits on advertisement, loudness compliance).
Data privacy: government bodies need specialized software platforms to guarantee data privacy.
Flexibility: government bodies need to make changes fast…faster than regular clients and therefore as their partner we need to be flexible to meet those requirements.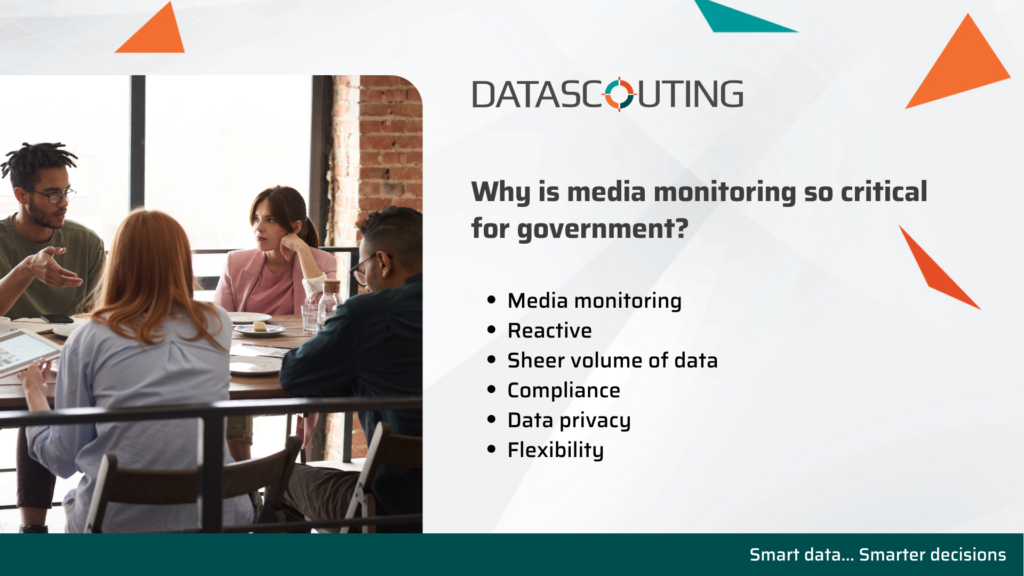 Software requirements
In our experience working with government bodies, we find that government bodies will use only technology they trust and therefore one of the main software requirements is security.
Security: Government bodies will use only technology they trust and we are committed to building this trust through transparency and confidential security information.
Privacy: usually our government clients prefer on premise installation, but our MediaScouting Suite has also been built for cloud.
Software transparency: our system applies open-architecture standards, whereof our clients have direct access to their data using standard formats (XML).
Failover architecture: the system needs to run continuously 24/7 at a high degree of reliability.
Encryption: encryption is used throughout the system.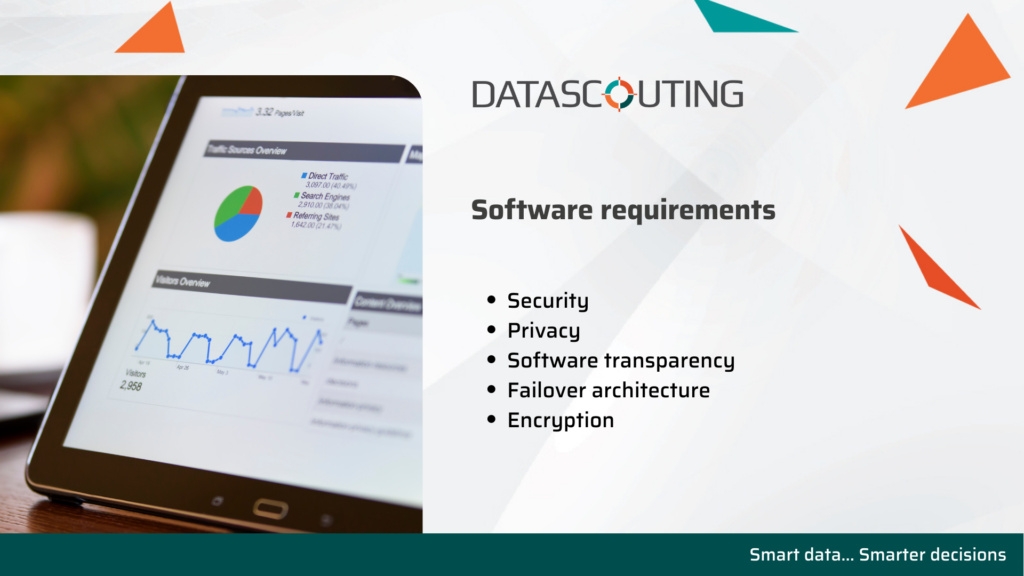 Media monitoring requirements
Government bodies use our MediaScouting platform to monitor traditional media (press, TV, radio), online and social media.
Turnkey solutions: usually government bodies select partners that can guarantee both software and hardware through tendering procedures.
News monitoring in real time 24/7: Breaking news detection, leaking stories, references.
Archiving needs: increase the archiving period (save the media for as long as they need).
Multilingual: support multiple languages, including local dialects in all media.
Geographical coverage: their needs expand beyond neighboring countries, and their need to cover larger geographical areas.
Data migration: in some cases, older data has to be integrated into the new system.
Scale: Seamlessly increase the number of monitored streams.
Delivery: besides email or delivery through a dashboard, government bodies require other ways, such as sms, whatsapp and other special apps.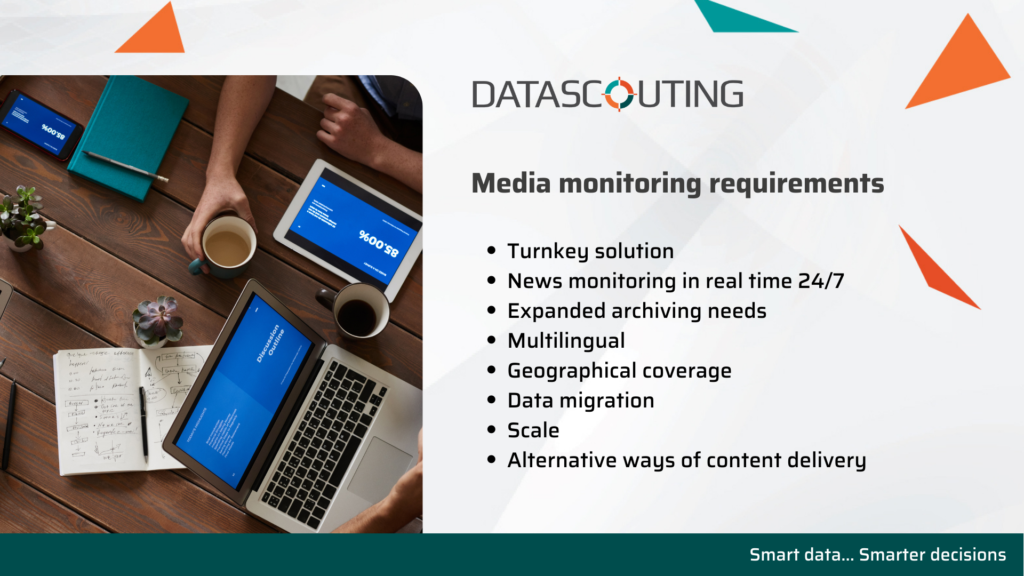 Government media monitoring vs corporate media monitoring
When it comes to media monitoring businesses and government bodies act in different ways.
Team structure: with government bodies we are dealing with smaller groups that deal with more data and for them to process the sheer volume of data they need more intelligent technology.
Newsroom: the workflow for government bodies is different. They make the decisions internally what to monitor and this is an ongoing process that changes every day.
True real time response: their needs for delivery are almost all the time real time.
Quality: we offer our government clients dashboards to measure their team performance.
Extra requirements: government bodies often have special requirements. For example, we have been asked to deliver data from public government data, such as public government reports, hearings, press conferences and public speeches.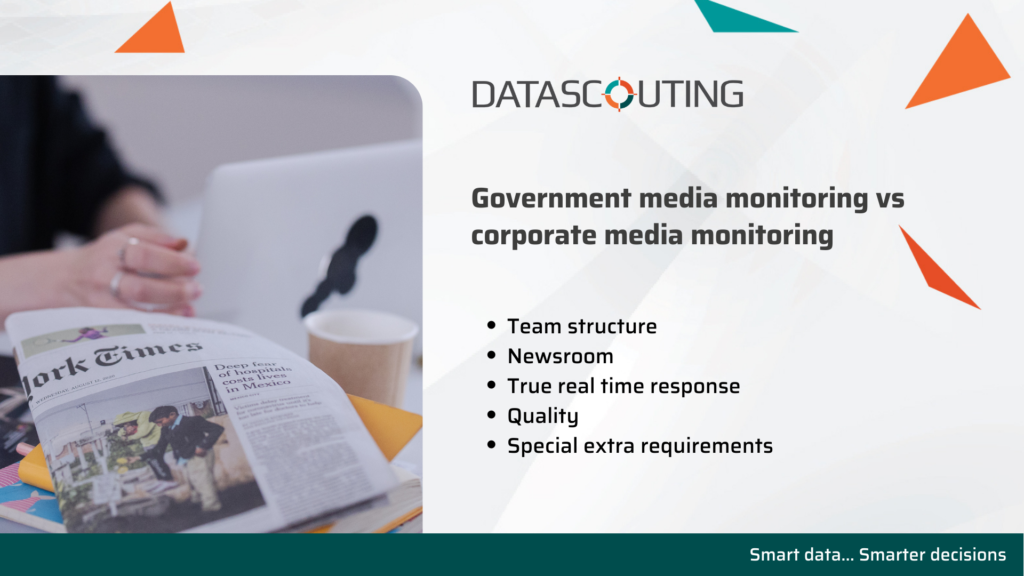 The Government edition of MediaScouting Suite
To meet the different demands of our government clients/partners, we have developed a special edition of our MediaScouting Suite. The key technologies of this special edition are:
Optical Character Recognition: we use state of the art optical character recognition and automatic speech recognition that can be trained according to client requirements;
Automatic Speech Recognition: convert spoken language into searchable text with high accuracy;
Closed caption extraction: automatically extract text form closed captions and scrolling subtitles;
News ticker extraction: identify news tickers and convert them into searchable text;
Face/Logo recognition: we can identify faces and logos appearing in TV streams, and allow clients to add their own logos and faces;
Digital on-screen graphic recognition: this a new module that automatically recognizes changes in TV stations logos;
Machine translation: we support automatic translation both for TV/radio and print/online/social content;
Topic detection: the system uses keywords and ML to detect topics;
Entity extraction: the system can identify entities such as organization, names, countries, and place names in text;
Data analytics: we offer solutions for creating customized dashboards to identify and drill down information for decision making;
Multilingual search: the system can locate useful information across different languages;
Multiview screen application: watch multiple TV channels in a single screen;
Failover architecture in all stages: the system can be parametrized to include automatic fail safes for all production processes.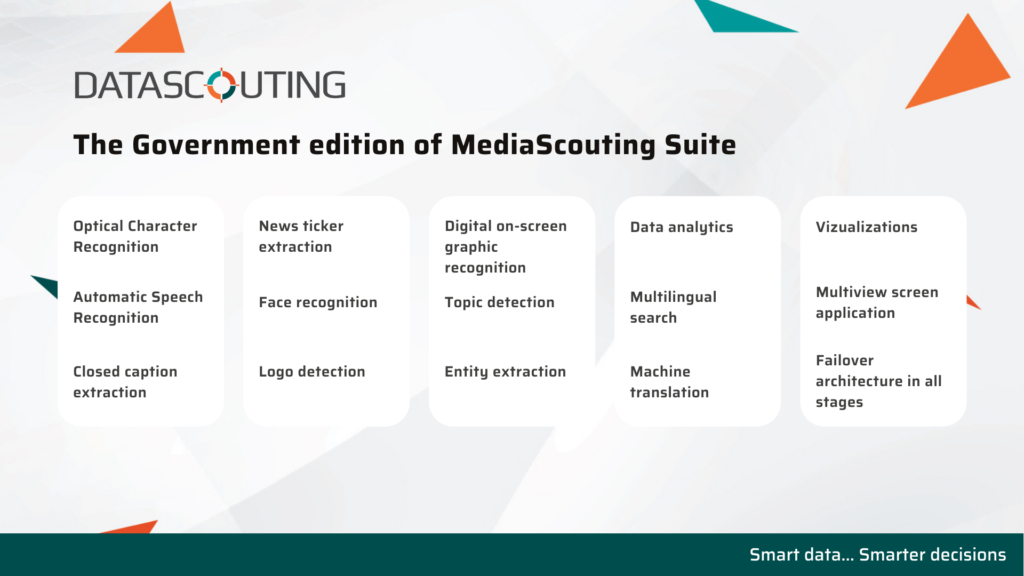 If you are a government body looking for an efficient, robust media monitoring software to cover your media intelligence needs and help you improve your workflow, please reach out. We will be more than happy to discuss with you how our MediaScouting Suite might be the right solution for you.