Series of mini-interviews about Artificial Intelligence
Artificial Intelligence is essential in analyzing the massive volumes of data, now available, and convert them into actionable information, knowledge and insights. We are asking members of our team what is their perspective of Artificial Intelligence and the core value proposition of AI tools for the media intelligence industry.
In #1 we asked Tom to tell us why is Artificial Intelligence Important and how can we build trust. In #2 we asked Sophia to tell us about the role of Artificial Intelligence in the media intelligence industry. In #3 we asked Christina to explain what is human-in-the-loop in Machine Learning. In #4 we are asking Polychronis Charitidis, our Data Scientist about the importance of Deep Learning for a media monitoring company.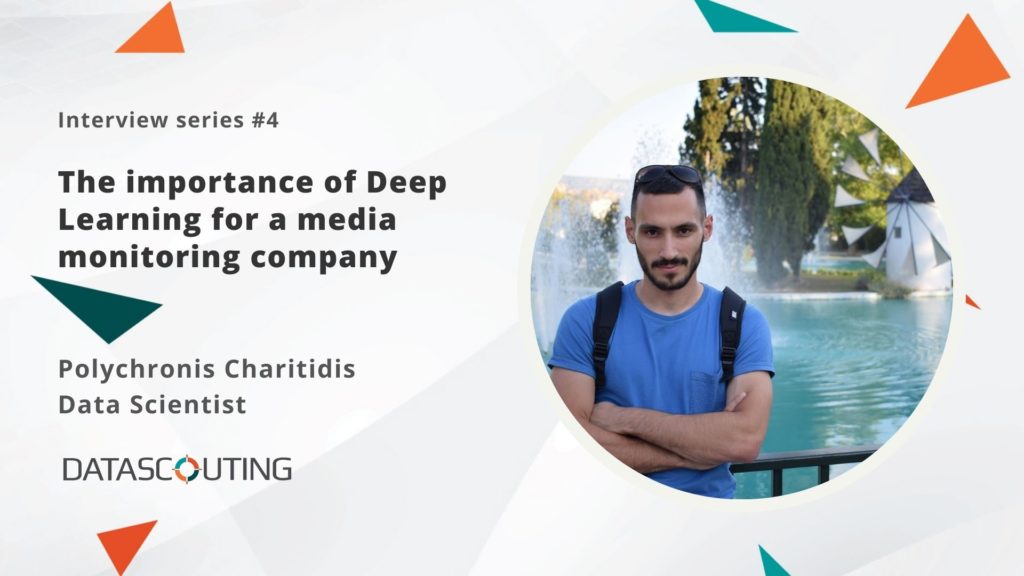 Q: How crucial is Deep Learning for a media monitoring company and what are the uses of such technology in your company?
Polychronis: In recent years, technological advancement has contributed significantly to business growth and efficient management of available resources. Since the advent of Deep Learning (DL), a branch of Machine Learning, numerous problems that were considered to be hard, are now easily tackled. Deep Learning has become very important in different sectors; from self-driven vehicles to the use of voice assistants, Deep Learning is outperforming traditional methods which involve data.
Simply said, Deep Learning uses multiple layers to progressively extract higher-level features from raw input. The word "deep" in "deep learning" refers to the number of layers through which the data is transformed. This architecture is called a neural network. The process of learning requires a large amount of data which is referred to as training data and is achieved with some advanced optimization techniques. From the description above, one can easily understand that data is of paramount importance for any Deep Learning application.
Nowadays, media monitoring companies analyze a vast amount of data on a daily basis. The amount of information published online keeps increasing every day, while PR and marketing professionals have limited time to find relevant content. Additionally, information on the internet exists in many different formats like images, videos, or audio. Generally, media monitoring companies need to analyze a diverse range of media platforms in order to identify trends that can be used for a variety of reasons such as political, commercial, and scientific purposes. This implies that such companies have to apply efficient and tailor-made solutions to get valuable real-time insights from big data.
Deep Learning excels in applications such as image classification, object detection, natural language processing (e.g automatic text summarization), and automatic speech recognition. Also, in the related research works, there are a lot of pre-trained models that perform well in specific use cases, for example, there are pre-trained object detection models that detect specific objects. Furthermore, the process of customizing such models is easy provided that there are available relevant data. A media monitoring company can easily exploit available data to generate custom models to provide additional business value to its products. On top of that, if they are deployed on proper hardware, such models can run in real-time for many applications and process large amounts of information. The model customization according to specific needs and efficient performance are the two most important factors that can increase the value of a media monitoring company.
At DataScouting we have an active research and development team, and our media intelligence software solutions combine leading-edge technology and human editorial tools to help PR and communications experts, and media monitoring professionals to better measure communication effectiveness. More specifically, we utilize Deep Learning for many applications. Examples of such applications are: face recognition, in which we train custom models to recognize specific faces, automatic speech recognition to transform audio to text in many languages, logo detection to detect specific logos in videos, hate speech classification to detect hate speech in tweets, and others.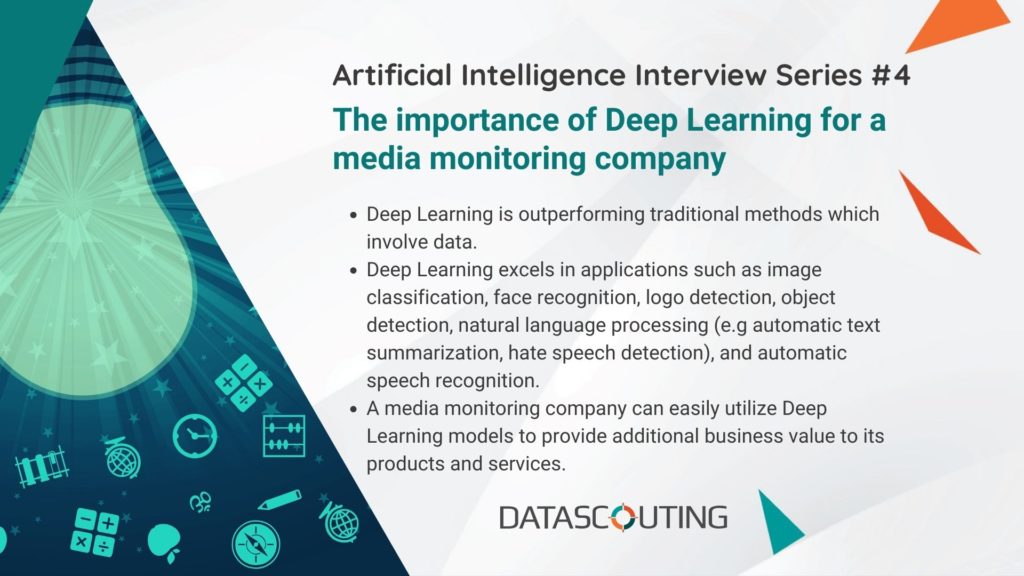 As a technology provider and member of FIBEP and AMEC we offer PR agencies and media monitoring companies sophisticated media intelligence software solutions to optimize their business workflow across print, TV, Radio, online and social media. Our MediaScouting Core allows our clients and partners to present content, visualize analytics, and create reports.
Read #1 Interview with Tom Avramis, Managing Partner, about Ethics and AI: Building Trust
Read #2 Interview with Sophia Karakeva, Chief Communications Officer, about AI powered Media Intelligence
Read #3 Interview with Christina Tzogka, Data Engineer about Human-in-the-loop in Machine Learning