A paper by Vasileios Batalas Msc, Angeliki Garoufali Msc, Eleni Ntrogouli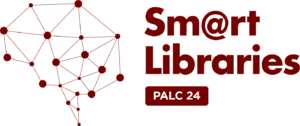 Vasilis, Angeliki and Eleni presented their paper The physical library space as a "Third place" for socialization and collaborative learning in the new digital era at the 24th PanHellenic Conference of Academic Libraries. PALC took place in the city of Larisa, from 1 to 2 November.
The library is the heart of the academic institution. Still, nowadays it is drifting away from its traditional mission and goals due to the rise of smart technologies and smart learning tools. So, do we still need the physical space if users no longer feel the need to visit an academic library for the sources and services it offers?
The physical library space as a "Third place" paper deals with the impact that this transition has had on the academic library and its users. It also examines its role as a "third place" and how that balances between social factors and technology advancements.
Furthermore, the paper emphasizes the changing use of library physical space for social networking; since – according to modern educational, psychological and social perceptions – it is not just a place for study and research, but it also supports multicultural societies, cultural activities and collaborative study. As the "third place", the academic library strengthens socialization and collaborative learning.
The methodology Vasilis, Angeliki and Eleni used in this research, which includes analysis of scientific sources, refers to examples of academic libraries that have been transformed successfully into "a third place".
Vasilis Batalas is the Library and Information System Manager at DataScouting. Our company offers solutions to  Libraries and Information Centers, Archives and Museums with tools to empower both staff and users. Alongside, we also offer digital convergence services to facilitate institutions and organizations involved with print, audiovisual and digital material to improve their business.