DataScouting will present a webinar about leveraging on new technology for media monitoring as part of the AMEC Measurement Month 2020.
The AMEC Measurement Month webinar will take place on the 26th of November at 2pm CET time. It will be a zoom event hosted by AMEC.
Don't be afraid of change! Leveraging on new technology
Ignoring technology is not a sustainable move. PR needs to partner with Tech. In this webinar, Sophia Karakeva, CMO and Stavros Vologiannidis, Co-Founder, Business Development and Innovation, will provide answers to crucial questions that might be the reason why PR is slower to adopt new technology.
Which platform/solution should we invest in?
Should we build it or buy it?
How will it improve our work?
Will it grow our business?
Will my data be safe?
AI is not here to replace PR professionals but to partner with them.
Please click here to register.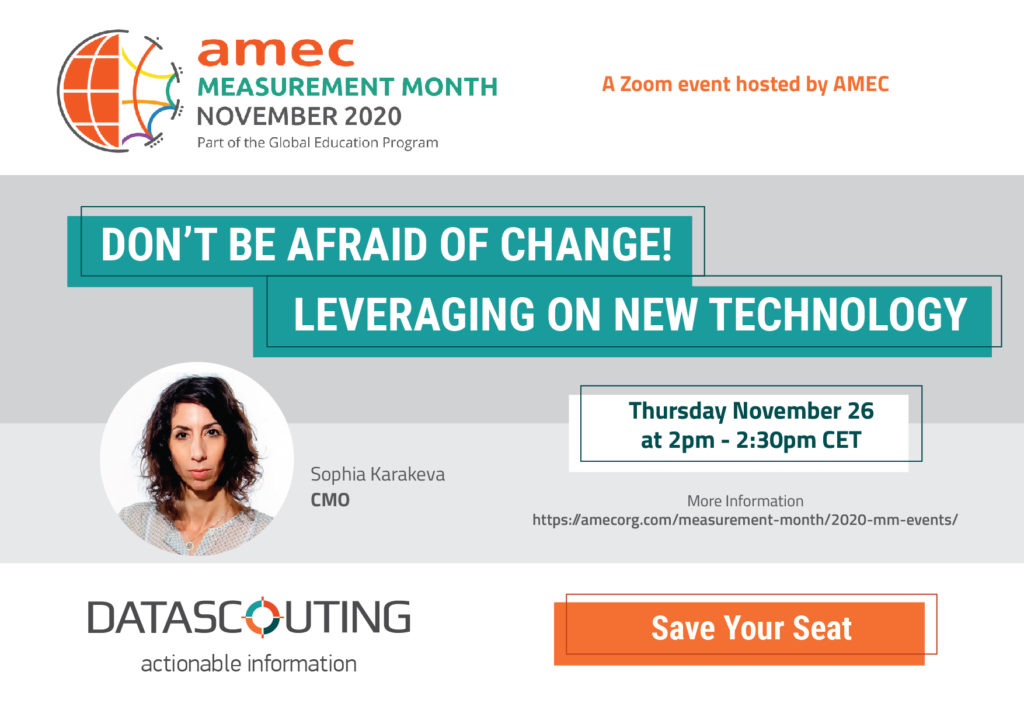 DataScouting is a service provider and software developer for Information and Communication Technologies (ICT), specialized in developing innovative solutions for media monitors, PR agencies, publishers, broadcasters, brand owners and market analysis specialists. Using technologies such as Optical Character Recognition, Natural Language Processing, Automatic Speech Recognition, Logo Detection and Data Mining, DataScouting provides intelligent solutions for managing and delivering of print, broadcast, online and social media. Our MediaScouting platforms are designed to track news insight, monitor advertisements, identify logos, recognize faces, and comes as a 360o solution with archiving, multi-form delivery, reporting, alerting and a dashboard for easy access anywhere, anytime. DataScouting can help you accelerate business grown and address business and technology challenged by designing and building high quality, reliable and secure applications tailored to meet your business requirements. DataScouting is a member of AMEC, FIBEP and NEM.