Shonali Burke, CEO at Shonali Burke Consulting INC, shares in this post her views about the gap between communication professionals and data, comments on the opportunities and challenges she sees in automation in PR and communication management, predicts the winners and losers of communication channels and instruments, gives her outline of SMIs today and sums up with tips about making sure we measure the right things.
Q: Strategic Communication is becoming increasingly about understanding data and not just mastering the use of words. But there is a fundamental gab between communication professionals and data. What are the reasons for the limited penetration of big data in the field of strategic communications? 
SB: I think many professional communicators are still scared silly by numbers. I still hear, "I didn't go to journalism (or PR) school to do math." That drives me nuts. Thinking of data as "math" is extremely myopic, in my view.
We need, and use, data points for every single decision we make in our lives; what to eat (depending on what we're trying to achieve from a health and wellness point of view), what to wear (depending on where we're going, who we're meeting and what impression we want to leave), and so on.
So to ignore data and the intelligence we can gleam from them, that allows us to make better strategic and business decisions, is pretty crazy.
But because "data" invariably comes with the "baggage" of dealing with numbers, I feel many communicators just don't want to deal with them. And that's so sad, because it can open up such an amazing world of insights.
Second, I feel a lot of pros in related disciplines, especially in the "digital" space, are territorial about accessing and sharing data. PR pros still get boxed into media relations to a large extent, and they're not proactive enough about demanding equal access to these data.
Q: What opportunities and challenges do you see in automation in PR and communication management? 
SB: The primary promise of automation is efficiency; having systems and workflows in place via technology to free up time for us to use our brains.
The downside to automation is assuming that these automations – be they in media monitoring, social media scheduling, or anything else – will "also" take care of the relationship-building and strategic aspects of PR.
They won't. Relationships still need a human touch, and you still need humans to review the results of the automations and gather strategic insights.
Q: European vs American communication professionals: How do they practice communication management? 
SB: I haven't worked in Europe, so I can't speak from the practitioner point of view.
What I do observe from the U.S. in conversations with pros from all over the globe – as well as having quite a few in my Social PR Virtuoso Master Course and Social PR Posse Facebook Group – is that in the U.S. integrated communications is really becoming part for the course.
I think one area that is catching on in the U.S. is this whole concept of "Social PR," people here get it much more easily than those in Europe, at least in my experience. So perhaps we are a bit less siloed at the moment?
I'm sure that will change soon, though – I met some of the absolute smartest people at the recent AMEC Summit, and was blown away by how strategic and thoughtful they (you!) are.
Q:  Key communication channels and instruments are constantly changing. Winners and losers? 
SB: Ah, you're asking me to pull out my crystal ball! I try to not do that, because really – who could have predicted Snapchat's latest rise?
I will say that I don't think Facebook is going away any time soon. And despite its naysayers, Twitter neither.
Personally I really like the new video technologies and platforms, like Blab. Of course, AR/VR is on the upswing, but it will take a while for mainstream adoption. Mobile video is really easy, so I think we're going to see a lot more of that.
Q:  Organizations are increasingly challenged by multipliers and influencers on social media. How would you characterize SMIs today? Which factors are important to identify SMIs and what strategies would you advice organizations follow to better communicate with them?
SB: I actually developed a course on influencer marketing with Traackr, so would love your audience to check it out – it's free! And, I also wrote about how to start setting in place metrics that really matter, when "officially" you're being directed towards metrics that are completely meaningless.
The one thing to remember when communicating with any kind of influencer is that, at the end of the day, we're all people. If we robotize our communications with influencers, or treat them as if they're goods and products in a marketplace, they'll act accordingly… which will end up doing nothing for us.
Remembering to treat people like people – that, ultimately, is where it begins, and ends, and begins again.
Q:  Analytics tell stories. But are we sure it is the right story? How can we be sure we measure right?  
SB: We always need to start at the end. What is the point of the story, and what are we trying to achieve?
If we know that, then we can figure out how to track whether or not we're moving in the right direction. And that will point us towards truly valid metrics.
About Shonarli Burke
Shonali Burke, ABC(*), is the accredited, award-winning president and CEO of her eponymous Social PR consulting firm which helps businesses small and large take their communications from corporate codswallop to community coolTM.
She is also the founder of Social PR Virtuoso™, which provides online training and resources in Social PR for ambitious professionals, with a strong emphasis on strategy and measurement. An early adopter of social media in the PR space, Shonali founded and still hosts the #measurePR hashtag and Twitter chat.
A veteran of both large and small PR agencies, Shonali has worked on two continents and on both coasts of the United States. Her experience includes designing and implementing public relations around the world premiere of "Russell Simmons Presents Def Poetry" in San Francisco prior to its award-winning Broadway run; a stint as the ASPCA's Vice President, Media & Communications during the 2007 pet food recall and Michael Vick case, and where she put in place its award-winning measurement program; and designing and implementing the now- textbook digital strategy for USA for UNHCR's Blue Key campaign.
Shonali is Adjunct Faculty at Johns Hopkins University's M.A./Communications program, where she teaches courses on nonprofit communication in the digital age and public relations writing. She is also an instructor for Rutgers University's PR Certificate program, teaching a course on public relations measurement.
A former IABC/DC Metro chapter president and ColorComm board member, Shonali is a sought-after speaker, teacher, and trainer. She was honored by AWC-DC with its prestigious 2015 Matrix Award for excellence in communication and service to the industry.
(*) ABC stands for "Accredited Business Communicator," a professional credential offered by the International Association of Business Communicators (IABC).
Follow Shonali on Twitter or connect on LinkedIn.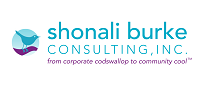 Think of SBC Inc. as a micro-agency that provides strategic communication advice and support to organizations that understand 21st century communication means going from corporate codswallop to community cool™.
It's still research-based, it often includes "traditional" PR elements, and it's always based on measurable objectives – but socialized digital channels are core to the strategy, and integrated from the get go.
Because 21st-century communication isn't about shiny new toys, but about how they can work with the not-so-shiny toys to positively impact your bottom line (and yes, even non-profits have a bottom line).
For more about Shonali Burke Consulting, Inc. please visit their website, reach them via email, befriend them on Facebook or learn more on LinkedIn.