We are happy to be attending the FIBEP World Media Intelligence Congress 2022 that will be held from the 14th until the 16th of September, in Dublin, Ireland.
Once again, we are proud to be a Sponsor of the FIBEP World Media Intelligence Congress. We have been a loyal sponsor of all the FIBEP WMI Congresses since 2014. As a tech provider we offer FIBEP members sophisticated media intelligence software solutions to optimize their business workflow across print, TV, Radio, online and social media.
This year's theme is Media Intelligence – Insights During Unrest. As the world is facing so much uncertainty, the Media Intelligence industry and FIBEP members are charged with providing insights to clients to help provide clarity. During the 2022 FIBEP World Media Intelligence Congress there will be a variety of presentations, panel discussions, round table talks, masterclasses, workshops, and best practices shared. These conversations will focus on the issues that the media intelligence industry is currently facing in order to move forward together.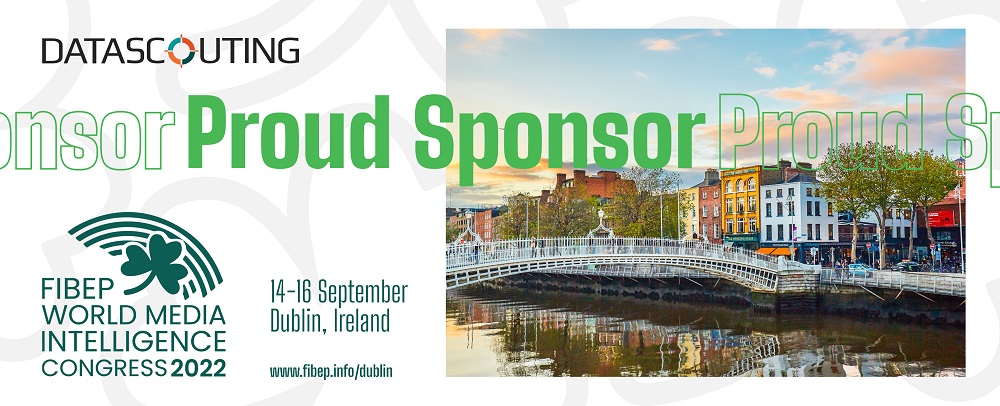 How Business Models are Changing
Business models are changing. We should be driven by innovation and attention to change. We cannot fear change, but rather we should probably be scared if we are not changing. The real strength of FIBEP is that we have the world's largest MMOs, the world's smallest MMOs and every related business in between. This session will reveal helpful strategies and tactics we all can gain insight from that could help any size organization these times of unrest.
This session, schedule for Wednesday, September 14, will focus on the changing business models in the media intelligence industry in three different areas. First, we will hear some survey results from our members and discover how we might reinvent and reframe the real value of media insights with Sophia Karakeva, Chief Communications Officer, DataScouting and FIBEP VP, and Amrita Sidhu, Managing Director, Medianet & Mediaverse.
Future Tech Table
Sophia Karakeva is facilitating and moderating the Future Tech Table that will take place on Thursday, September 15. This session will focus on technologies that will change the future of the media intelligence industry, the technological progress made so far, the potential future risks, and answering the hot question what is the right IT strategic plan.
First, we will hear from Wouter Quartier, Sr. Manager Digital, Platforms and Transformation at the European Broadcasting Union, how to bridge technology and strategy in a perfect storm. Media is in a perfect storm. Internationalization, digitalization and phantomization are putting pressure on both technology and content and distribution strategy. But both need to go hand in hand. Wouter will demonstrate how EBU helps their members bridge between technology and strategy in order to stay relevant in reaching and engaging with their audience.
Next, we will have a great discussion with Mohan Doshi, Chief Strategy Officer at Nirvana and Viet Yen Nguyen, Chief Technology Officer at Hypefactors about Tech in the Competitive Landscape. For the past 20 years, database tech and cloud tech have been adopted. It is now the baseline for every media monitoring company. Tech is both a necessity and a growth stimulant: necessity because the media landscape grows exponentially, and a growth stimulant because tech can drill into new use cases and new markets. The competition takes both dimensions. The fireside chat will be moderated by Vlado Petkov, CEO at Identrics and member of the FIBEP Technical Advisory Commission.
And last but not least, we will hear from Sofie Hvitved, Futurist and Head of Media at the Copenhagen Institute for Future Studies about the future of media technology. What are the new emerging trends in communications and technology in media? Sofie will present some of the trends that are shaping the future media landscape for instance, the Metaverse, Web 3.0, creator economy, AI, and automation.
This session is produced under the FIBEP Tech Portfolio, headed by Sophia Karakeva and supported by the FIBEP Tech Advisory Commission.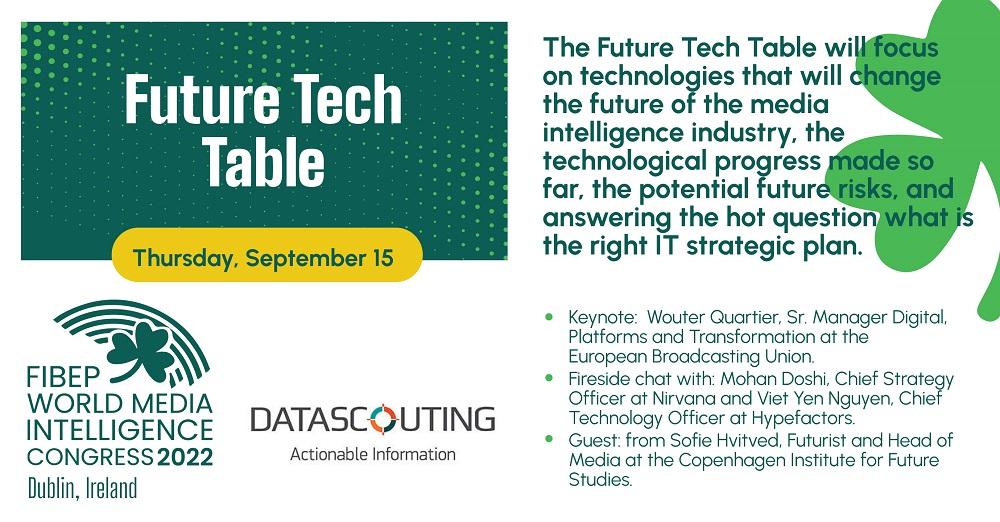 Creating value with technology: Listening and delivering the software and AI that you need
In this presentation, we will focus on three projects to demonstrate how we tackled the different needs and challenges of media monitoring teams, marketing and comms professionals, how we adjusted (from analysis through design to development and implementation) in order to make sure our technology delivered what they needed in order to become more efficient, and provide smarter data, better experience and efficient tools to their users/clients.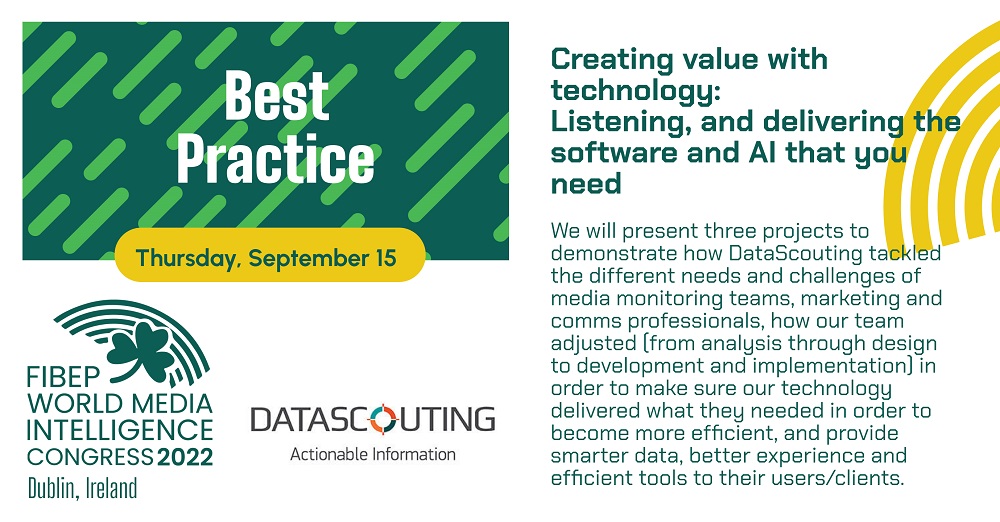 MediaScouting Core: a dashboard built for you
As an exhibitor at the FIBEP World Media Intelligence Congress, at the Clayton Hotel Cardiff Lane, we will exhibit from Wednesday, September 14 until Friday, September 16, our media intelligence software solutions, our Dashboard, and we will introduce the MediaScouting Core.
MediaScouting Core is a robust, white labeled delivery platform that aggregates online, broadcast, print and social media content. Visualize your data, create reports and alerts so that your clients can make smarter, actionable decisions. Provide to your clients a real-time understanding of their media intelligence ecosystem while keeping all your data secure and safe in your own cloud or on-premise infrastructure.
Comprehensive monitoring: Our dashboard displays data from print, broadcast (TV and Radio), online news and social media in a single delivery platform. View trending themes, top sources, content stream, and sentiment.
Visualizations: Our dashboard makes it easy to visualize and understand large volumes of information by displaying it in easy-to-read interactive charts.
Analytics & Reporting: Integrate data from rating agencies, create and use your own metrics for analysis and reporting.
Smart Query System: Use powerful and interactive keyword filters to eliminate irrelevant content and ensure the most accurate search results possible.
AI Modules: Use any of our AI modules to enrich your content.
Alerts: Create and Schedule customizable automated email reports and alerts that match user specifications.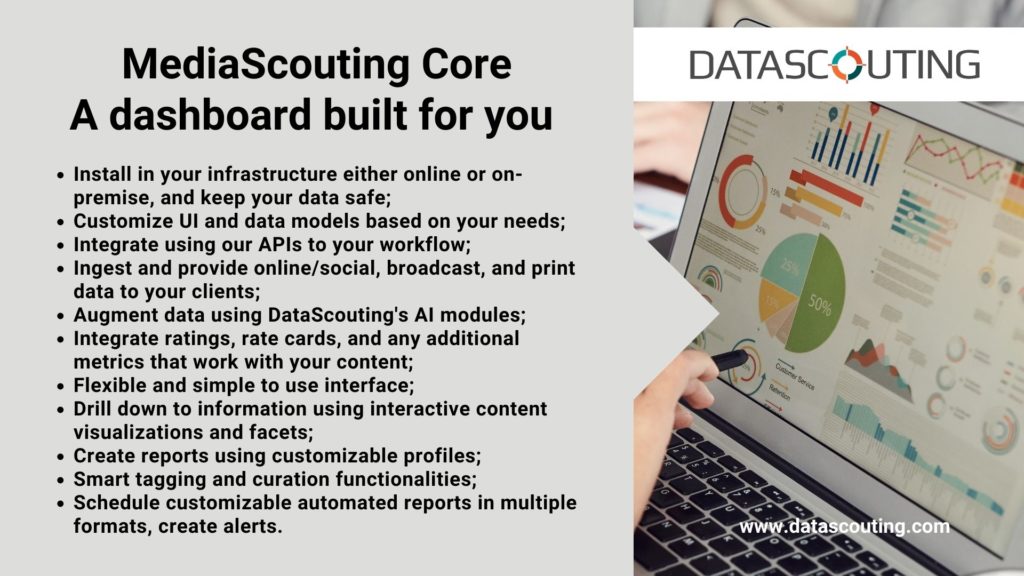 Schedule a meeting with us or contact us.
About DataScouting
DataScouting is a service provider and software developer for Information and Communication Technologies (ICT), specialized in developing innovative solutions for media monitors, PR agencies, publishers, broadcasters, brand owners, and market analysis specialists.
Our platforms minimize time and effort needed to search and find actionable information in broadcast, online, social media, and print media. Using technologies such as Optical Character Recognition, Natural Language Processing, Automatic Speech Recognition, Logo Detection, Face Recognition, and Data Mining, DataScouting's platforms automatically augment textual and audiovisual streams, helping our clients and partners to manage and easily identify content of interest.
We have been a FIBEP and an AMEC member since 2014.